Customizing your Chill-Out Chair with accessories and sensory solutions has never been easier. Choose from our variety of foam, fabric and accessory options to build your own comfort palace! Remember, if you need custom give us a call, because give us the need, we'll find the concept. 1-800-661-9915
Kick your feet up, Chill-Out and give our blog a read!
Chill-Out Chairs
When COVID-19 hit Manhattan in March of 2020, Michael Peckins decided to use his
Chill-Out Chairs
Sasha describes her seven-year-old daughter Sutton as a very determined and strong-willed girl who
Chill-Out Chairs
During these times of social distancing, the living room couch has become a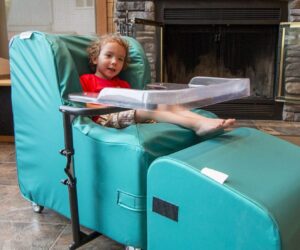 What Jacoby likes best of all, however, is his ability to sit and play with his twin sister and friends. In his Chill-Out Chair, Jacoby joins us for dinner at our level;
he watches baseball and participates fully without requiring such constant attention. It's a relief for the entire family. And no doubt about it, Jacoby enjoys his independence.
We have been through a lot of chairs over the years. Never really finding one that allowed Makenzie to "relax". She was never supported enough, always falling to one side or slouching down. I was so excited when I found the Chill-Out Chair. Finally, a chair she can relax in! I also love the removable ottoman that comes with it. Kenzie picked a pretty purple color. Very happy girl here!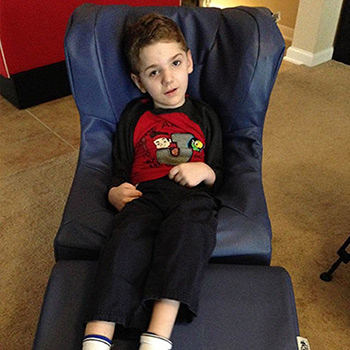 The Chill-Out Chair was recommended by one of his new therapists and we love it! It's the first chair that we have found that supports him properly and allows him to sit up and join in with family activities. We also love the fact that it is offered with wheels so that we can push the chair around the house instead of having to pick him up and move him. We would definitely recommend this chair for other special needs families!
Subscribe now and get special offers
CHILL-OUT CHAIR SUPPORTERS