Angela Beltran describes her son, Jack, as a social and outgoing boy.
"Even though he can't speak with his mouth, he speaks a lot with his eyes," said Angela.
Jack has cerebral palsy and has a hard time controlling his muscles.
"He is high tone and tends to do a lot of flexing and extension," said Angela.
The disorder affects all of his limbs so he can't walk, sit up on his own and can't crawl.
Jack also has epilepsy which is a side effect of cerebral palsy.
Angela first heard about the Chill-Out Chair from another parent whose child had cerebral palsy.
"She told me it was the one chair where her son would just sit in and not really flex out of," said Angela.
She says most chairs require strapping the user into the chair.
"This chair doesn't actually have to be strapped into," said Angela. "You can set him in there and he'll just chill in it."
Angela appreciates that the chair doesn't have an upper seat belt that would hold Jack's chest in. She thinks of it as a La-Z-Boy chair.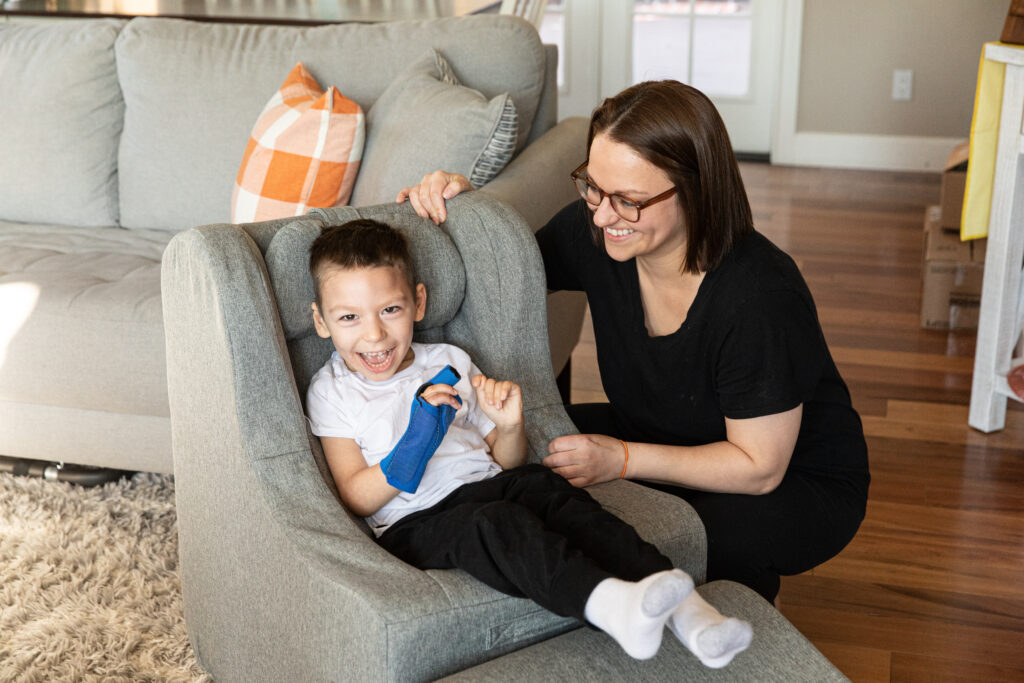 Their family uses the Chill-Out Chair when they want to put Jack in a chair quickly and don't have to strap him into something.
"It's usually something like someone ringing the doorbell and we want to set him down quickly because he can't sit on his own," said Angela. "We can't just sit him on the couch because he tends to roll over or off the couch."
Angela's favorite part about the Chill-Out Chair is that it can be rolled from room to room.
"When we have family over it's nice to be able to just push it where the majority of the people are," said Angela.
She also enjoys how the chair can be pushed outside onto their deck and around the house.
"We tend to roll it in the front room or into the TV room," said Angela. "If I'm cooking, I'll sometimes put him in it and just roll it into the kitchen."
The family also purchased the positioning pads which help prop Jack up as he tends to lean to the side. While these pieces are very helpful, Angela also appreciates the headrest.
"He tends to lean his head in the chair, so I think the headrest is also a good accessory to have," said Angela.
Angela recommends the chair to anyone who wants to put their child into a chair and not have to strap them in.
"I would say if you're looking for a chair that your child can just relax in, I would say it's a good chair," said Angela.